Deer Lodge towing provided by Mountain View Towing
Mountain View Towing of Deer Lodge (406) 239-9504 provides roadside service, vehicle break-down service and Deer Lodge towing services for the Southwest Montana area. Including: Deer Lodge, Anaconda, Drummond, Garrison, Avon and Elliston areas.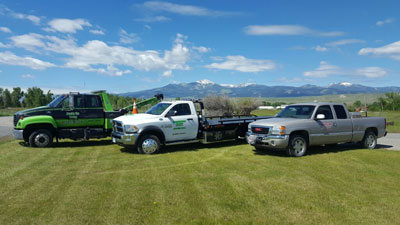 Here is what a customer needing Deer Lodge towing says...
Deer Lodge towing
I was on a family vacation recently, traveling Interstate 90 from Washington State to North Dakota. While driving the highway, I noticed some debris on the roadway ahead. There was a semi-truck and trailer in the passing lane to my left preventing me from avoiding the obstacle ahead. Forced to run over the sharp object I soon noticed it had punctured my tire, making me pull to the side of the road. After inspection of the tire, I realized it was completely ruined. I then removed the spare tire to make the repair and noticed that the spare was flat also. Nick, with Mountain View Towing was the nearest Deer Lodge towing service in the area. He promptly came to the rescue with his truck and a spare tire to fit the car. We were soon on our way! Thank you Nick!